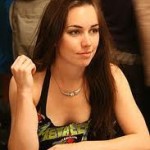 Liv Boeree is one of the newest members of Team PokerStars and she looks great on pictures….what more could you ask for? I wonder if Liv Boeree has a boyfriend? No wonder "Liv Boeree picture" and "Liv Boeree boyfriend" are some of the most searched poker keywords in Google. In this article I will attempt to give an overview of Liv Boeree's poker career. If you asked a non-poker playing person to describe what they thought a stereotypical poker player looked like then I can 100% guarantee that they would not paint a picture of someone who looked like the delectable Liv Boeree.
Liv Boeree's early gambling days
Born in Kent in 1984, Boeree never considered becoming a poker player, in fact she did not discover the game until she was 25-years old. She was one of five contestants chosen to appear on a reality television show that resulted in her being taught poker by the likes of Dave "Devilfish" Ulliott and ten-time WSOP poker bracelet winner Phil "The Poker Brat" Hellmuth. Boeree developed a passion for the game and set about studying it intently, much like she had done during her time at Manchester University where she studied astrophysics.
He first recorded cash in a live poker tournament came back in 2007 when she placed 7th in a $10,000 freeroll to celebrate the opening of the Loose Cannon Sports Club in London for a mere $400. The following year she really put herself on the map when she beat Lenna Martyak heads up in the $2,000 buy-in European Ladies Championships for $42,000. This gave her the bankroll boost needed to play in a number of World Series of Poker events, though she is yet to have a major score in the eight times she has cashed.
Liv Boeree's major tournament wins
A number of relatively small cashes followed her success in the European Ladies Championships but in April 2010 she had an absolutely amazing result that will mean she will not need to use any 2011 WSOP qualifiers as she became a millionaire overnight. The San Remo stop of the European Poker Tour saw a record field of 1,240 pay the €5,000 entry fee, creating a prizepool of €6,014,000 shared out amongst the top 184 players. After playing some exceptional poker over the course of the tournament, Boeree found herself heads-up against Sweden's Jakob Carlsson. She eventually beat him to claim the massive €1,250,000 ($1,698,300) first place prize and a place in poker history.
Liv Boeree's other interests
Apart from being a millionaire astrophysicist, Boeree is also a huge heavy metal fan and an accomplished rock guitarist! What more could you want from a women? Poker, money, loves rock music and is rather pleasing on the eye! I guess Miss Boeree proves there must be a God!

Similar Posts:
No comments yet.
Leave a comment