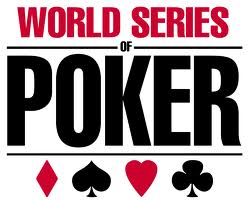 Day 9 of the 2011 WSOP yielded no fewer than two happy bracelet winners. Event #8, the $1k NL Holdem event (the first one of its kind at this year's Series) has finally wrapped up, leaving Sean Getzwiller clutching the gold bracelet and the winner's share of the prize-pool. The other winner was Geffrey Klein, who beat the odds during the heads-up stage of the $1,500 NL Holdem 6-max event to secure his own place in poker history and his own piece of WSOP gold.
Only 3 players returned to action on the final day of the $1k NL Holdem event. Sadan Turker had the largest stack at the beginning of the day. The other two candidates for the title were Getzwiller and Jon Turner, who found himself relegated to short-stack status after having led by a wide margin at one point in the tournament. Under pressure to perform, Turner shoved all-in on the first reasonable pocket hand he picked up. His pocket 8s got called by Turker's Q,4 and the classic coin-flip was on. Turner managed to dodge his opponent's outs on the flop, but the Q which fell on the river bounced him, setting up the heads-up action. Turker and Getzwiller then battled for 6 hours before the latter emerged with the win, his pocket 5s beating his opponent's A,9o in the final hand of the tournament.
15 players returned to action on the final day of the $1,500 NL Holdem 6-max event. David Vamplew had the lead going into the day, but Jeffrey Papola had a healthy stack as well. On the hunt for his second 6-max WSOP bracelet, Papola made the final 3 indeed, but there his journey came to an end, when Eddie Blumenthal's nut flush filled up on the river against his top pair. Blumenthal went into the heads-up stage with a monster lead over Klein, but hugely favored by Lady Luck, Klein rebounded and eventually got his hands on the bracelet after his A,K spiked a K on the turn of the final hand against Blumenthal's pocket 7s.

Similar Posts:
No comments yet.
Leave a comment