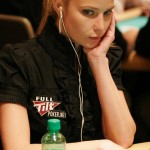 For a long time Erica Schoenberg has been regarded as the hottest female poker player and she's talented to boot. Just how talented will be revealed once I finish this article.
Erica Schoenberg is becoming one of the most recognized players in professional poker. Her stunning good looks are certainly part of the appeal. Her devastatingly accurate play is even more engaging. She has appeared on a number of televised events and her credentials are much more impressive and diverse than many would expect.
The Early Years
Erica caught the gambling bug from her parents. They met at the Santa Anita racetrack in California. After marrying, they moved to Akron Ohio where Erica was born in 1978. The family often played quite a bit of cards at home and Erica learned about handicapping by accompanying her father to the local racetrack. She developed her math skills early with help of her parents and quite a lot of proposition betting. Occasionally there would be pocket money involved but more often than not, Erica was betting she wouldn't be doing the dishes or mowing the lawn.
In 1991 she demonstrated how well she learned these early math lessons by placing 1st at the Knox County Math Championship. She was just 13 years old at the time. In college she studied theater and began a career in modeling shortly after graduation. It wasn't long before her competitive spirit took her into a brief stint as a professional volleyball player. She also spent some time as a personal trainer and kickboxing instructor before her affinity for math brought her back to cards.

Finding Her Place In The Universe
She applied her innate math skills to blackjack had a very successful run. She fell in with members of the MIT Blackjack Team and under their tutelage she increased her winning percentages significantly. In 2005 she appeared on the GSN's World Series of Blackjack and finished 2nd on her episode. The next year she participated in CBS's Ultimate Blackjack Tour. She quickly became known simply as "Blackjack Babe."
During this time she started to nurture a passion for Texas Hold'em. She played in home games that featured players like World Series of Poker champion Phil Helmuth. In 2006 she cashed in the Five-Star World Poker Classic. This 16th place finish demonstrated that she had the makings of a successful poker and Mansion Poker quickly signed her as their first spokesperson. In 2007 she won a World Poker Tour no-limit hold'em event at Mandalay Bay.
In short order, Erica's nickname transformed from "Blackjack Babe" to "Poker Babe." She has cashed many times in both WSOP events and WPT events around the world. Today she is one of the notable Full Tilt Pro's. Anybody looking to match wits with her across the electronic felt should look for her at the 25 50 no limit tables. She can also be found occasionally playing at Mansion Poker under the nameStr8flushiiin.

Balancing Life And Poker
While poker is her chosen profession, it does not consume her every waking moment. Just follow her on Twitter where her handle is @thehitwoman. A quick review of her tweets reveals she spends as much time thinking about food as she does about poker. As a self confessed foodie, her passion for a good meal is quite evident as she tweets restaurant reviews and even contemplates what she plans to fix herself for lunch.
Erica treats poker like any other job and tries to limit herself to 40 hours a week. She admits to putting in overtime during major events like the WSOP. Despite not being as active as most pros, she has career tournament earnings of $802,344. Combine that with what she takes down in cash games and online play and she is clearly doing quite well for herself.
With all the free time she leaves for herself, she continues to stay fit by playing beach volleyball and enjoys spending time with her dogs. Like many American poker professionals, she now calls Las Vegas home.

Similar Posts:
No comments yet.
Leave a comment