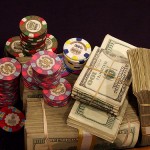 Here's a summary of the latest poker news
Despite his recent losses, Gus Hansen is still one of the biggest overall winners of 2011. Lately though, his good luck seems to have vanished, as he struggles along trying to consolidate his position atop the 2011 leader board. A day ago, he put in another 481-hand effort at Full Tilt Poker, which – unfortunately for him – ended up in quite a substantial loss: he dropped around $345k, in the wake of a weekend outing which saw him pocket $686k. The guilty ones this time were Kagome Kagome and Seb86 whom the Great Dane took on at the PLO tables. Following Hansen's weekend run, Lady Luck must have decided to turn her back on him, as he was simply unable to land a punch against either of these guys. Kagome Kagome will probably say "thank you" to the Dane, given that he collected $177k off him. The other protagonist of Hansen's battles, Seb86, picked up $168k. Despite the disastrous session, Hansen still remains on top of the 2011 winners' list thanks to his massive weekend haul.
Over at PokerStars, the cash game action flared up too, with Viktor Blom and Gavin Cochrane battling it out again at the $50/$100 PLO tables. The two put in a massive 3,075 hands over the last few days. Blom emerged with the win yet again, taking home $90k of his opponent's money. Blom, who was under the red line by a massive $500k at one point, managed to rebound over the last couple of weeks. The money he picked up from Cochrane the other day finally pulled him even at the site. Besides Blom, other players who made noteworthy profits over the last days were Mary & Joey, tr1cky7 and saphire1. The losers' list was headlined by Gus Hansen, but it also included gavz101, le kork and compris.
Similar Posts:
No comments yet.
Leave a comment