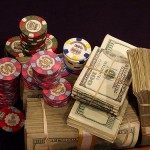 High stake poker action during the third week of February
The week of February 14-20 saw a considerable flare-up in nosebleed stakes online poker action. The biggest winner of the week was Gus Hansen (with more than $475k). Many of the "name" players who hadn't showed up at the tables for weeks were back in action, taking on their more active peers. Gus Hansen saw action and he locked horns with none other than Phil Ivey.
Ilari Sahamies, who hadn't exactly done well in 2011, decided that a change of scenery might do good and right he was: he played at PokerStars (he was down around $200k at Full Tilt Poker at that point) and got away with a $50k profit – a more than welcome change of pace for the Finn who hadn't tasted victory in quite a while. The money came from Daniel Cates, who also reared his head at PokerStars. Sahamies also logged hands against a player known as LooneyGerbil. The biggest pot Sahamies played for was a far cry from the 6-figure monsters he's known to be familiar with: it was a $66k whooper, which ended up in his possession after he hit quad Ks.
Over at Full Tilt Poker, Antonius and Scott Palmer took to the $500/$1,000 PLO tables. These guys didn't spare the chips. The largest pot they played for was a $200k one which ended up in Antonius' pocket after none of the two river cards (they ran the river twice) helped Palmer. The $500/$1,000 capped PLO tables at Full Tilt Poker are Gus Hansen's favorite roaming grounds. It was at those tables that he took on Phil Ivey last week. The biggest pot that developed between the two was a capped one ($80k) which – unfortunately for the Great Dane, who has been riding a superb winning streak – ended up in Ivey's possession. Hawrilenko, Cates and Ivey did well too, together with Viktor Blom. FishosaurusREX led the losers' list, joined by Rui Cao and Jared Bleznick.

Similar Posts:
No comments yet.
Leave a comment