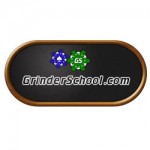 This article belongs to the Poker Tools series and is about one of the best beginner's poker schools, namely Grinderschool.
When you're a poker beginner there's basically two ways of improving your skills. Either you gain experience yourself by putting in the hours at the tables and seeking out information from books and online resources. Or you get feedback on your play from other players who have already beaten the level you're aiming to beat. In reality, the fastest way to improve your poker skills is a combination of both.
However, as a poker beginner, playing micro/low stakes, it is difficult to get qualified and reasonably priced feedback, since most poker schools and coaching sites cater to more experienced players. Enter Grinderschool.
—Please support this blog by signing up to Grinderschool through my affiliation link. It won't get you a cheaper subscription, but I'll make a few buck to help improve this site—
Grinderschool caters specifically to low stakes players from 0,01/0,02$ cash games to 3/6$ cash games. Grinderschool also has tons of quality poker videos on MTTs ranging from freeroll tournaments to 550$ buyin tournaments. All you pay, to gain access to the site and interactive forum, is a low monthly subscription fee down to 10$ per month. This makes Grinderschool the perfect choice if you're on the lookout for a beginner's poker school. In addition to poker tutorial, Grinderschool also offers reasonably priced coaching down to 40$ per hour, which might turn out to be the best investment you make in your game.

Similar Posts:
No comments yet.
Leave a comment