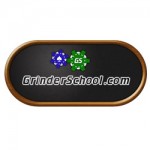 This article belongs to the Poker Tools series and is about the best poker school online today.
Poker schools are a great way of gaining the knowledge needed to take your game to the next level. However many of the available online poker schools are more or less affiliate sites in disguise. This means that the main focus of the site is not to help you become a better poker player, but instead to sign up you up to their poker affiliation sites. Don't get me wrong! There's nothing wrong with making a buck or two through affiliation work (I do it myself on this blog). What I don't like is when sites pretend to be something they aren't. If you're looking for a real poker school then keep on reading, and I'll give you my reasons for claiming Grinderschool to be the best poker school online today.
—If you wan't to support this blog, please sign up to Grinderschool by clicking on my affiliation link. It won't get you a cheaper subscription, but I'll earn a bit a dough to help improve this site—
GrinderSchool definitely does not fall into the category of disguised affiliation sites. The people behind this poker school earn their money selling subscriptions to some of the best online poker training material available. Grinderschool caters especially for low stakes poker players (down 0,01/0,02$ limits and freerolls) which otherwise have a hard time finding quality poker material at a reasonable price. The combination of low subscription fees and great poker material is what makes Grinderschool really stand out from the rest. Grinderschool subscription fees start as low as 10$ per month. If you want more information on subscription fees check out my full review of Grinderschool (FYI most – if not all- of the annoyances I list in this review are out-dated and do not apply to the current version of the Grinderschool site)
Grinderschool features include:
An easily browsable poker video library with more than 900 videos and 7  new videos released each week.
A dedicated team of 11 poker enthusiasts who cover all aspects of low stakes poker through their own experiences at the grind. Read more about the current GrinderSchool instructors here.
A no-spam / no-flaming forum where you can get qualified feedback on your poker questions.
Private coaching lessons at a fair price.
Similar Posts:
No comments yet.
Leave a comment