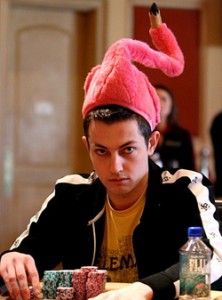 This article belongs to the Poker Pro series
Thomas Dwan aka Tom Dwan aka Tom Dwan "durrrr" or simply "durrrr" (chosen as a nick to maximize his opponent's tendency to tilt) as he's known to the online poker scene is one of most popular young poker players around belonging to the group of poker stars including Gus Hansen, Phil Ivey, Doyle Brunson, Phil Ivey and the rest of the pack. Durrrr plays hyper aggressively and is extremely skilled in reading his opponent's hands. He will regularly fold second nuts if he thinks he's beat and gladly call immense pots with only high cards if he thinks he's ahead.
Thomas Dwan was born on July 30th 1986 in Edison New Jersey and in his short poker career he has managed to build his poker bankroll to a level where he is able to participate in the highest limit online games on Full Tilt poker and all the major live tournaments.
In the following article I will sum up how Tom Dwan durrrr built his poker bankroll and mention some of the major pots and challenges he has been involved in.
Tom Dwan durrrr's early gambling days
As a kid durrrr played all the classical American sports such as basketball and baseball on a recreational / hobby level. He also enjoyed playing various card games with his family. His passion for poker started one day at his house where he and some friends played a 5$ buyin No Limit Hold'em. Fascinated by the game they quickly started playing sit and goes. Nowadays, you can easily play these games at a live casino on the internet. Check out this list of Live Casinos available for UK players. Play responsibly.
Soon after, Dwan, aged 17, convinced his father to deposit 50$ on Paradise Poker and an online legend was born. After dropping to 15$ durrrr never looked back and within the first year he built his bankroll to 10000$ mainly from No Limit cash games.
Thomas Dwan enrolled in college at Boston University as an engineering major but dropped out during the first year to pursue a full time poker career (makes sense when you're killing the 10$-20$ and 25$-50$ No limit hold'em cash games)
Throughout these early days, durrrr's poker bankroll went through some major swings that were dealt with by grinding through lower limits.
In 2006, Tom Dwan durrrr's poker bankroll was large enough to buy a house in  Fort Worth, Texas together with his long time friend David "Raptor" Benefield.
Tom Dwan durrrr's bankroll swings
Before the 2007 World Series of poker, durrrr's bankroll dropped from 3 million $ to 1 million $ in 4 months
In January 2009, Dwan lost more than 3.5 million $
In September 2009, Dwan lost 900000$ in a single session playing only 1071 hands
In a terrible first week of November 2009, durrrr lost 5 million $ to the poker phenomenon Isildur 1
In 2010 Durrrr's bankroll has already been through several million $ swings but overall the numbers are black so far.
Tom Dwan durrrr's major pots
The 12th of June 2008, durrrr won a 657070$ pot against Urindanger (real name Di Dang) on Full Tilt poker's 500/1000NL games
During the  4th season of Full Tilt Poker's Million Dollar Cash Game, Tom Dwan Durrrr won the biggest pot in TV poker history taking a whopping 1.1 million against Phil Ivey.
Tom Dwan durrr's biggest challenges
In January 2009 Tom proclaimed his million $ challenge in which he challenges any poker player except Phil Galford heads up at 4 tables over 50000 hands at the 200$/400$ or higher No Limit Texas Hold'em or Pot Limit Omaha. If durrrs wins he receives 500000$ in addition to his winnings and if he loses, his opponent receives 1,5 million $. So far Patrick Antonius and Daniel "jungleman12″ Cates have taken up the challenge, but neither match has been finished.
The game stats are as follows:
Durrrr vs. jungleman12: -657774$ (7660 out of 50000 hands played over 6 sessions)
Durrrr vs. Antonius: +2059719$ (39436 out of 50000 hands played over 64 sessions)
In the 2010 World series of poker, Tom Dwan allegedly made side bets of over 5 million $ at odds 3.25:1 that he would win a bracelet. He came close losing heads up to Simon Watt in WSOP's event # 11, $1,500 buy-in No Limit Hold'em. After the match Mike "The mouth" Matusow thanked Watt for saving numerous players millions of dollars.
It will be interesting to follow the development of Tom Dwan durrrr's poker bankroll in the remainder of 2010.

Similar Posts:
4 Comments to How did Tom Dwan "durrrr" build his poker bankroll?
Leave a comment