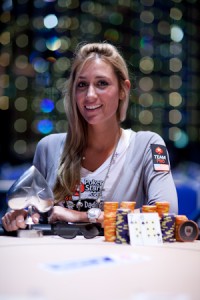 Poker hottie and sex symbol Vanessa Rousso was born in New York on February 5th 1983 and has dual citizenship in the U.S. and France. She graduated with honors from Duke University and later studied law in Miami and wanted to be a securities litigator. It held up until she discovered poker. Since her start as a professional poker player, Vanessa Rousso has earned more than 2500000 dollars in live tournament winnings which at the young age of 27 ranks her among the top 5 all time female money winners. She is also a Team Pokerstars Pro playing online under the nick LadyMaverick. Did she started her poker carrer by using kasyno online bonus bez depozytu? In this article I will try to sum up how Vanessa Rousso built her poker bankroll.
LadyMaveric's early gambling days
While attending Duke she proved herself to be quite the brainiac and she became interested in game theory, which is about how you relate complex mathematical decision strategies for everyday life. Although having dabbled with chess, her choice of game fell on poker due to its aspect of human psychology (as you know, the best hand doesn't always win in poker). In 2003 she graduated from Duke with a major in economics and a minor in political science. She completed her college time in only 2 and a half years which was the fastest completion in the history of Duke. Vanessa started law school in 2004, but never finished after playing tournaments in her summer holiday. Having played poker since the age of 5 and playing online throughout college building a substantial poker bankroll, she realized that this was the career for her and she turned professional in 2005.
Vanessa Rousso's major tournament wins
| | | | |
| --- | --- | --- | --- |
| WPT $25.000 No-Limit Championship | April 2006 | 7. | $263.625 |
| WSOP $5.000 Shorthanded No Limit Hold'em | July 2006 | 8. | $61.955 |
| WPT Borgata Open $5.000 No Limit Hold'em | September 2006 | 1. | $285.450 |
| Ultimate Poker Challenge Championship Event | March 2007 | 2. | $65.863 |
| PokerStars WCOOP No Limit Hold'em Main Event | October 2007 | 2. | $700.782 |
| Poker After Dark 'Gus and the Girls' Episode | January 2008 | 1. | $120.000 |
| EPT Monte Carlo €2.000 No Limit Hold'em | April 2008 | 4. | $54.116 |
| PokerStars WCOOP $1,050 FLHE | September 2008 | 3. | $59.450 |
| WPT Southern Poker Championship | January 2009 | 7. | $79.117 |
| NBC National Heads-Up Poker Championship | March 2009 | 2. | $250.000 |
| EPT Grand Final €25K High Roller | May 2009 | 1. | $749.467 |
If I've forgotten soon please let me know.
Vanessa Rousso's other achievements
When Vanessa is not playing poker, she finds time for a lot of hobbies. She describes herself as an adrenaline junkie, so she is often outdoors and skydive and bungee jumping. She has also provided strategy articles to several poker magazines.
Vanessa has also engaged herself politically in an attempt to overthrow the Unlawful Internet Gambling Act, which all American poker players hate and find very unfair.
In 2009 Vanessa Rousso started her own poker training camp in Florida tailored to poker tournament play. The Big Slick Bootcamp instantly became very popular (a 399$ entry fee sounds cheap if you get the chance to spend time with one of the hottest female poker players)

Similar Posts:
2 Comments to How did Vanessa Rousso build her poker bankroll?
Leave a comment