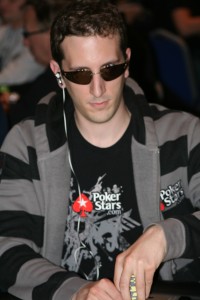 French poker pro Bertrand "ElkY" Grospellier was born in France on the 8th of February, 1981. He currently resides in London. In his relatively short poker career he has become one of the most successful French poker player, doing well both in live tournaments – with a estimated total winnings of more than 6.1 million $ and on the online felt at PokerStars where he's a member of team PokerStars. I've not been able to find out where the nick "ElkY" originated from. Do you know?
In this article I will give a recap of Elky's path to the poker tables in addition to summarizing how Bertran Grospellier built his poker bankroll.
The early gambling / gaming days of Bertrand "ElkY" Grospellier:
[adrotate group="6″]"Elky" was already an online star player before he became a poker player. After he moved to Korea in 2001, ElkY was a regular participant in the World Cyber Games and the Korean Pro Gaming leagues thanks to his talent for computer strategy games. His specialty was Starcraft (great game by the way…Protos FTW), a game where he still ranks among the best. His major gaming results are quite impressive:
3rd – KBK Jeju (Seoul, South Korea)
2nd – World Cyber Games 2001 (Seoul, South Korea)
4th – World Cyber Games 2002 (Daejeon, South Korea)
4th – SKY 2 Ongamenet Starleague (Seoul, South Korea)
2nd – Ongamenet WarCraft Retail League (Seoul, South Korea) [WarCraft III: Reign of Chaos, all others StarCraft: Brood War]
1st – Euro Cyber Games 2003 (Paris, France)
5th – World Cyber Games 2003 (Seoul, South Korea)
top 16 – World Cyber Games 2004 (San Francisco, California, U.S.A.)
Around 2004, "ElKy" was introduced to  the poker scene by a friend and instantly fell in love with the game. His background in professional gaming gave him an enormous advantage during long multitabling sessions where mouse dexterity, the abilty to see perfectly with the corner of your eye, fast reflexes and obviously quick thinking are key skills. Elky started playing at PokerStars at became the first player ever to achieve Supernova (100000 VPPs) and Supernova Elite (1000000 VPPs) status. What's even more impressive is that he achieved Supernova status in 2 weeks and Super Nova Elite status in 4 and a half months. That's insane! To illustrate his multitabling skills he also currently holds the Guinness Book record for most SNGs played in hour…62 in total!
Elky's major live tournament results
| Event | Date | Position | Prize |
| --- | --- | --- | --- |
| EPT Copenhagen Dkr 37,500 Main Event | January 2007 | 2nd | $399,953 |
| 2007 WSOP $2,500 No Limit Hold'em | June 2007 | 9th | $29,124 |
| APPT Macau $2,500 Main Event | November 2007 | 5th | $48,576 |
| EPT PokerStars Caribbean Adventure | January 2008 | 1st | $2,000,000 |
| PokerStars WCOOP $25,500 NLHE Heads-Up | September 2008 | 2nd | $320,000 |
| WPT Festa al Lago $15,000 | October 2008 | 1st | $1,411,015 |
| EPT PokerStars Caribbean Adventure $25k High Roller | January 2009 | 1st | $433,500 |
| EPT Deauville High Roller Event | January 2009 | 3rd | $101,839 |
| NBC National Heads-Up Poker Championship | March 2009 | 3rd | $125,000 |
| WPT World Championship | April 2009 | 3rd | $776,245 |
| 2009 WCOOP $530 NLHE 1R1A | September 2009 | 1st | $232,730 |
| 2009 WCOOP $215 NLHE | September 2009 | 1st | $263,323 |
Table taken from the PokerStars player profile page for Bertrand "ElKy" Grospellier.
Elky's other interests

As fellow poker pros will attest to, there isn't much spare time when you play as many live tournaments as "ElKy". In the little spare time he has, he still enjoys to play online real-time strategy games. In addition Elky has also appeared on numerous TV shows including High Stakes Poker.
A fun anecdote from the 2009 WSOP
During the 2009 WSOP Sorel Mizzi and Elky had some serious sidebet action in an equivalent to the Olympic Games. Here's the series of events:
Day 1:
Bench press
Bicep Curl
Shoulder Press
Triceps Pull Down
Chin-ups
Day 2:
Angled Leg Press
Leg Extension
Squats
Day 3:
Tennis (best out of 3 sets)
Day 4:
Skipping rope (most in a row without missing)
Arm wrestling  (Bedst ud af tre)
Day 5:
Kick Boxing (9 rounds)
Day 6:
Swimming (Who can stay longest in the center of the pool without touching the bottom)
Day 7:
Rowing (longest in 15 minutes)
Each side bet was worth 10000$ and as an extra bonus, the loser had to hand in 15% of his WSOP winnings (up to 300000$ as the maximum). If one person won more than 80% of the disciplines there was an additional 50000$ bonus to the winner. I wonder what the results were?

Similar Posts:
No comments yet.
Leave a comment