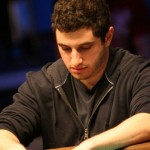 Phil "OMGClayAiken" Galfond is an upcoming poker superstar and is often seen on the highest stake tables on Full Tilt and PokerStars.
Phil "omgclayaiken" Galfond
As young poker players come they don't come much more inspirational and aspirational than Phil "omgclayaiken" Galfond.
Born in 1985, this twenty-something poker player is the poster boy for poker wannabes across the world, causing online poker hopefuls of all ages to cash in their Party Poker discount codes in the hopes of attaining a level that might mimic his mighty achievements.
Originally from North Potomac in Maryland, USA Galfond started his poker career in the online poker rooms making him an icon for those who hope to rise through the poker ranks in this way.
Phil Galfond Shook the Poker World
Operating under the poker nickname of "omgclayaiken" Galfond quickly became a force to be reckoned with in the big money stakes. Starting with sit and go games online, Galfond honed his skills to a level, before beginning his forays into cash games – where his studies of disciplines including psychology and probability soon paid off, pushing him to the top of the tables and earning him a seat on some ultra high stakes games. The young pretender shook the poker world by taking his first ever WSOP bracelet aged just 23.

Why is Phil Galfond Called "Omgclayaiken"?
Explaining his somewhat incongruous choice of nick, the manly young poker champion told pundits that he had wanted to opt for a moniker that would in some way unnerve his opponents. He explained that he felt the decidedly non-macho reference to the popular singer/songwriter who rose to fame in the reality show American Idol and later confirmed his homosexuality, coupled with the girlish acronym OMG (which means "Oh My God!") would give him the edge, since losing to such a non-alpha male seeming player would likely prove a psychological hurdle to other players.
Phil also plays under the nick of MrSweets28 on certain poker sites.
How Much Money Has Phil Galfond Won?
Currently living in New York, USA, Galfond's publicly known poker earnings from live totalled $996,000 in 2010, while the man's own website confirms that he has broken the magic million dollar mark many times over in his short career. Winnings amassed from tournament play include a 817,781 purse from the Pot Limit Omaha tournament, 39,570 for a 70th place finish in the 2008 World Poker Tour and an 18th place finish in the 2006 WSOP event earning him $22,895. Certainly the man is a multi-millionaire with no need to continue to play, which may be why he eschews the limelight of live tournaments most of the time, choosing instead to ply his poker in the online area where his career began.
Phil Galfond Shares His Poker Skills Online
Still playing poker both in person and online, Phil "omgclayaiken" Galfond is now also an online businessman running his own poker training concern at BlueFirePoker.com. The site, which offers aspiring "OMG"s an insight into the game play and strategy that got Galfond onto those top tables in the first place and Galfond himself oversees all the online content as well as handpicking the players tat offer advice through this online resource.

Similar Posts:
No comments yet.
Leave a comment