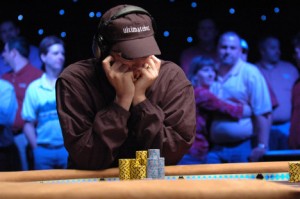 Did you ever wonder how Phil Hellmuth built his poker bankroll? In this article I will give you an overview of how Phil Hellmuth – aka The Poker Brat, The Madison Kid and the Joe McEnroe of Poker- has become one of the most famous poker pro players in the world along with a massive bankroll to his name. The nick "The Poker Brat" stems from Phil Hellmuth's infamous tendency to blow up when he suffers a bad beat or doesn't catch a break. The Poker Brat is also known for delivering some of the most memorable quotes in poker history:
"Honey, honey, I was supposed to go broke on that hand: Honey. But they forgot one thing: I can dodge bullets, baby!"
"This fricking donkey stuffs $15,000 in with king-jack. I mean … the guy can't even spell poker."
"When I watch myself on TV, I am a bit compelling …"
"What's my name? You know what my name is? I forgot my name even. Who am I?… Am I Phil Hellmuth?"
"If there weren't luck involved, I would win every time."
"Poker is 100% skill and 50% luck."
[adrotate group="6″]Phil Hellmuth was born the 16th of July 1964 in Madison (hence the nick "The Madison Kid") Wisconsin and currently resides in Palo Alto California with his wife Katherine (a child psychologist) and two sons Philip and Nicholas. Throughout his career, Phil Hellmuth has won more than 11 million $ in live tournament prize money. This puts him on a 4th place on the All Time Money list behind Phil Ivey, Daniel Negreanu and Jamie Gold.
The Poker Brat's early gambling days
Growing up in a middle class home as the oldest of 5 siblings there was always someone to play games with and from a young age the competitive nature of Phil Hellmuth was developed. His father being an assistant dean and professor at the University of Wisconsin had an academic career envisioned for his oldest son and Phil also studied for some years at the University of Wisconsin. However it was the game of poker, which he learned while studying at university that quickly became The Poker Brat's main passion and to his father's disappointment Hellmuth dropped out of school to become a professional poker player. Later in his career his father came to terms with his son's choice of life, especially after Phil Hellmuth bought him a brand new Mercedes after his 1989 WSOP main event win.
In his early gambling days, Phil Hellmuth built his poker bankroll playing professors, doctors and businessmen in high stakes local games. However, as every aspiring poker pro, Phil dreamt of making it big in Las Vegas. His first attempt ended in disaster and a busted bankroll and Phil returned to Madison to rebuild and develop his game. Eventually he was able to beat the low stakes games in Vegas and grind his way to a living. In 1989 he decided to pay 10000$ for an entry ticket into the WSOP main event despite this being way over his bankroll. He went on to win the event at the age of 24 – beating legend Johnny Chan heads up –  thus becoming the youngest winner of a WSOP main event at the time. The rest is history……
Phil Hellmuth's major tournament wins
The WSOP is definitely Phil Hellmuth's playing ground. He has won a record 11 WSOP bracelets along with a whopping 79 WSOP cashes and 41 final tables. In total, Phil Hellmuth has won over 6 million $ at the WSOP. He has never won on the WPT, but has collected more than 1 million $ in prize money. In 2005, The Poker Brat won the first National Heads Up Poker Championship beating players such as Huch Seed and Antonio Esfandiari before crushing legend Chris Ferguson in the final.
Below is an overview of Phil Hellmuth's WSOP bracelet wins:
| Year | Tournament | Prize (US$) |
| --- | --- | --- |
| 1989 | $10,000 No Limit Hold'em World Championship | $755,000 |
| 1992 | $5,000 Limit Hold'em | $168,000 |
| 1993 | $1,500 No Limit Hold'em | $161,400 |
| 1993 | $2,500 No Limit Hold'em | $173,000 |
| 1993 | $5,000 Limit Hold'em | $138,000 |
| 1997 | $3,000 Pot Limit Hold'em | $204,000 |
| 2001 | $2,000 No Limit Hold'em | $316,550 |
| 2003 | $2,500 Limit Hold'em | $171,400 |
| 2003 | $3,000 No Limit Hold'em | $410,860 |
| 2006 | $1,000 No Limit Hold'em with rebuys | $631,863 |
| 2007 | $1,500 No Limit Hold'em | $637,254 |
Table taken from Wikipedia (gotta love them!)
Other anecdotes and controversies regarding Phil Helmuth
Phil Hellmuth is infamous for his blow ups when people suck out on him and admittedly hates when people get lucky (something I can totally relate to). If you go on Youtube and type in Phil Hellmuth you will find numerous examples.
Phil Hellmuth endorses UltimateBet.com.
Phil has written many articles for Cardplayer magazine and numerous books including "Play Poker like the Pros", "Bad Beats and Lucky Draws" and "Poker Brat".
In 2008 Hellmuth launched an online store (www.pokerbrat.com) selling both brat and non-brat poker merchandise.
Hellmuth is an active philanthropist, donating money to help developing villages in The World's poorest countries.
The Brat's favorite movies are The American President and The Matrix and he like 80s and 90s rock and roll.
Similar Posts:
No comments yet.
Leave a comment