This article belongs to the Poker Tools series.
Repeating the same thing doesn't make it less true, therefore with no further ado, my words of wisdom: "when playing online poker you should always have either a bonus or rakeback deal associated with your deposit or your account. This will maximize your earnings, increase you bankroll and provide a faster route to higher limits."
For all you tournament players like myself, finding the right bonus for your limit of poker tournament play and poker site  requirements can be a tedious task. Fortunately my buddies at WOSB have created a poker tournament bonus search page to aid you in your bonus hunting (see screenshot below).
On this page you simply enter your preferred deposit method,  jurisdiction requirements, poker network and the amount you wish to deposit and then press "Find best tournament bonus". The  poker tournament bonus list below is automatically updated to show you the best tournament bonuses available matching your criteria and ranked by the bonus rake back percent (the percentage of your tournament fees that is paid back to you as a bonus).
If you want to rank the poker tournament bonus list by one of the other columns in the table such as "Bonus Amount" or "Bonus Percent" simply click on the column header and the table will automatically be updated.
Remember that some poker sites offer both bonuses and rakeback at the same time. We have a list of rakeback and bonus deals available through the PokerBRB website.
FYI the poker tournament bonus search page looks best when viewed in Firefox, but the people at WOSB have promised me that the IE version will be improved as soon as possible,
You could be posting your articles on the Poker Bankroll Blog. Read all about it here.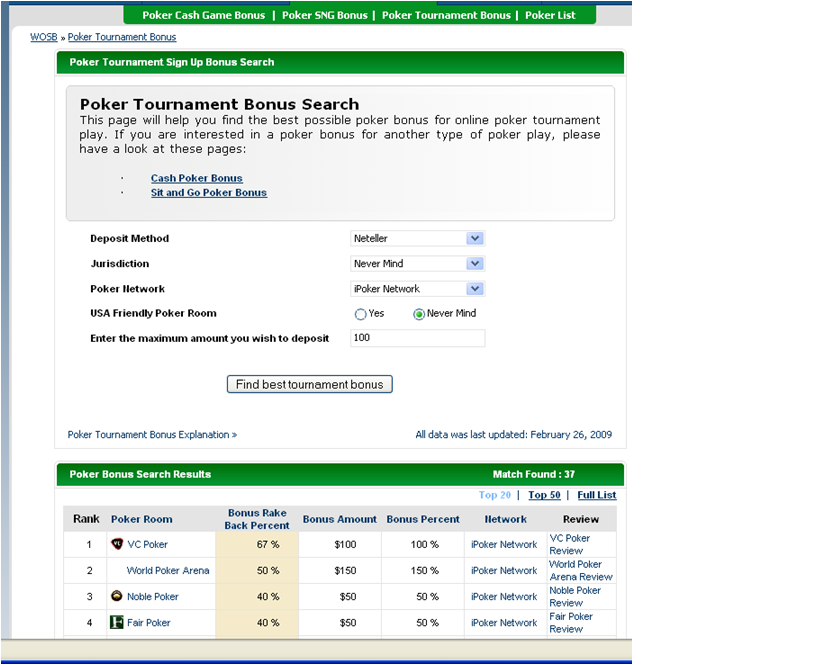 Similar Posts:
No comments yet.
Leave a comment