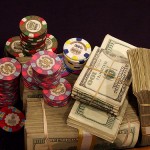 During the first half of May 2011 both Sorel Mizzi, Ilari Shamies and Vmnielsen had great winning streaks on the online felt.
Last week, the high stakes online poker action showed signs of recovering from the lull it had been forced into by the Black Friday events. During the mid-week, the action flared up at PokerStars, which in itself was a bit unusual and possibly a sign of things to come, as the cash game action had always been hotter at Full Tilt Poker. Vmnielsen was at the center of the action this time around and he was the one who ended up with the biggest profit of the mid-week. He made more than $250k in profits over a few days' time. Ilari Sahamies also made the winners' list, with a profit of $140k. The biggest loser was antonionel, who dropped $225k.
Ilari Sahamies hit the heads-up PLO tables on Thursday, taking on players like Sauce1234 and davin77. In one hand, at the $100/$200 stakes, Sahamies took full advantage of a perfect hand situation to take down a $122k pot. He made a full house against Sauce1234's trips and there was no way his opponent could dodge that bullet. A few hands later, thirsting for revenge, Sauce1234 got a bunch of chips into the middle again, contributing to the creation of a $51k pot, holding nothing but a flopped pair of 9s. Sahamies had pocket Ks though, and even though the turn and the river were run twice, nothing came to Sauce1234's aid, so that monster pot ended up in Sahamies' possession as well.
Over at Full Tilt Poker, Sorel Mizzi was busy securing his free entry into all of the upcoming FTOPS XXI events. How does one accomplish such a feat? By winning the FTOPS XX leader board, that's how. The Canadian cashed in 17 of the Series' 45 events, earning an impressive 1,365 leader board points. Mizzi said he hadn't planned on entering that many events, but after he did well in the first few ones he played in, he decided to go for the leader board win.
The biggest winners of last week were: vmnielsen, schadenersatz and Ilari Sahamies. The biggest losers were antonionel, samrostan and anna164.
Similar Posts:
No comments yet.
Leave a comment