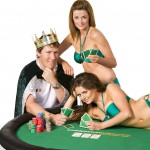 Submitted by Dave, this article about the social factor of online poker table selection belongs to the Poker Strategy series.
Choosing the right online poker site and table to play at is about more than just statistics. The social factors of a table are not difficult to filter and can lead to a more enjoyable session.
Table selection is certainly an important part of any successful poker player's strategy. Being at the right table can significantly increase your hourly earnings. There are a number of factors to consider when searching for the right table. Most poker authorities have already invested a significant amount of time and effort into what to look for based on player tendencies, average pot size and other statistical information. An equally important, though less objective, factor is the friendliness of the players at a table.
Making as much money as possible is not always the objective of an online poker session. Many people are playing for fun or for the social aspects of the game. If this is your goal for the session, the statistical criteria for a good table will only play a small factor in your final decision. More important is to identify what kind of players you want to be surrounded by.
Playing poker while having a good conversation is a most pleasurable experience. If you like to find out about different places and cultures, you want to play at a site that has a good mix of players from around the world. If you would prefer to talk with individuals who have similar interest to your own, start by finding a site that caters to you and your countrymen.
If you are a UK player, the task should be rather easy. Finding a good social table isn't like playing UK bingo online, you don't have to rely on luck. Simply search the Internet for UK friendly poker sites. The process would be the same regardless of where you live. Take a look at why these sites are considered friendly to you and your countrymen. Some may be owned and operated in your country or they may simply provide a number of amenities that appeal to the general public where you reside.
If you already have an account with some of these sites, start checking the tables with an eye for fellow countrymen. When you identify a table or two with quite a few UK players, for instance, load the table and drop a quick comment into the chat.
If no one responds, you are probably looking at a table of people who are taking their poker pretty seriously. The majority of them may be playing several tables at once and simply don't chat. Just go to the next favorable looking table and try again. Once you find a table with a good, talkative mix of players either take an open seat or join the waiting list. If you have never played at the site before, you will have to make a deposit first.
A little research and some scouting will quickly identify tables that meet your social goals. Playing at a table where the players are friendly and talkative can often result in a enjoyable poker experience. Many players also discover that their game becomes much sharper when they play in an environment they like even if the statistics say it is just an average table.
Similar Posts:
No comments yet.
Leave a comment