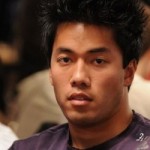 Despite his presence on the online poker scene since 2007, not much is publicized about the
background of Di "Urindanger" Dang.
Urindanger Fitting Poker Nick
While his poker nick, used in online poker rooms, where he plays the majority of his games, may seem a little nonsensical at first, a second glance reveals that the name is in fact a contracted text- speak version of "You're in Danger". The name is a good one, considering Dang's track record for wins, which has seen him net almost five million dollars in the games that have been tracked by poker analysis software – enough to send any young poker wannabe dashing to cash in their party poker bonus codes.
Di Dang in Top Five Online Earners
Playing mostly online, Di "Urindanger" Dang has quickly climbed into the top five online poker-playing earners, where he is joined by his brother Hac "trex313"Dang. The brothers, who live together in the US, are the subject of a lot of controversy on poker boards, with players across the world questioning whether they play as a team and discussing the ethics of that if it is in fact the case, although all signs would seem to point to the brothers being two distinct players in their own rights. Di "urindanger" Dang has so far shunned the big poker tournament scene, to the disappointment of fans who would love to see him compete in competitions such as the WSOP and WPT.
Di Dang "Not Good in Person"?
However, Di "urindanger" Dang has himself questioned whether his poker skills translate adequately to a face to face format after a trip to Macau to play like poker resulted in a loss of around $1.2million playing games at around a $500,000 buy in.
Speaking in an interview with Poker Static after his return, Di "Urindanger" Dang admitted that what had been planned as a weekend visit to the Chinese principality ended up with him spending three weeks at the tables before heading home with a significantly lighter bank balance. He said simply: "Maybe I'm not good in person."
Cash Games Win Di Dang $1.7m in One Month
With his favoured format being cash games, Di "Urindanger" Dang had already netted $1.7 million by the end of January this year in tracked games, playing both Omaha and Texas Hold 'Em. While Di "Urindanger" Dang is believed to prefer Hold 'Em his many wins mean that he can find it hard to find people willing to pit their money against his in the game, forcing him to switch to Omaha at times.
One of the complaints that have been made against him by other players is that he is a protective player, who will quit out of a cash game when he starts to lose, protecting his cash assets. While this may have helped him to keep his winnings level at a nosebleed high, it has also reduced his pool of possible opponents who dislike not being offered the opportunity to win back their chips when their luck turns.

Similar Posts:
No comments yet.
Leave a comment