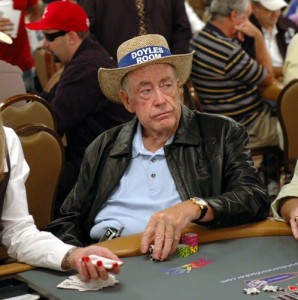 Doyle Brunson is the undisputed king of poker and still going strong at the age of 75. In this article I will give an overview on how Doyle "Texas Dolly" Brunson built his poker bankroll. Doyle Brunson was born in Longworth, Fisher County, Texas on August 10th 1933 as one of 3 children. In his younger years Texas Dolly was a talented athlete and basketball player until an accident during a summer job broke his leg in two places and put an end to his athletic aspirations.
Instead, Brunson focused on getting an education instead and received a bachelor's degree in 1954 and a master's degree in administrative education in 1955. As the story goes, Texas Dolly entered into a game of seven-card stud the first day of his job as a business salesman and earned more than a month's wage. He immediately quit his job to pursue a career as a poker player and never looked back on his way to building a substantial poker bankroll. Brunson is known to have said : "I'm a gambler,"I'll always be one. I couldn't be anything else. So, my life will always be full of wins and losses. I wouldn't have it any other way. It's exciting. There's never been a dull moment in my life."
Doyle Brunson's early gamling days
Back in the days when Brunson started to build his poker bankroll, poker was illegal and usually run by members of organized crime groups. On several occasions Doyle had guns drawn at him and he was also beaten and robbed. Gives the term "bad beat" a whole new perspective huh? Brunson first started playing the illegal games on Exchange Street in Fort Worth, Texas together with his mate Dwayne Hamilton. As Doyle Brunson's poker bankroll grew the two man group teamed up with poker legends Amarillo Slim and Sailor Roberts. As the story usually goes, the group of Texas Rounders built a huge bankroll by the standards in those days, and them hit Las Vegas only to loose everything. The group was dissolved but Doyle Brunson decided to stay in Vegas….a legend was born.
Texas Dolly's major tournament wins
Doyle Bruson's poker bankroll has grown considerably from his live tournament winnings which exceed 5.9 million $. Brunson was the first player to reach 1 million $ in tournament winnings and through his career he has won 10 WSOP bracelets.
| Year | Tournament | Prize (US$) |
| --- | --- | --- |
| 1976 | $5,000 Deuce to Seven Draw | $80,250 |
| 1976 | $10,000 No Limit Hold'em World Championship | $230,000 |
| 1977 | $1,000 Seven-Card Stud Split | $62,500 |
| 1977 | $10,000 No Limit Hold'em World Championship | $340,000 |
| 1978 | $5,000 Seven-Card Stud | $68,000 |
| 1979 | $600 Mixed Doubles (with Starla Brodie)[8] | $4,500 |
| 1991 | $2,500 No Limit Hold'em | $208,000 |
| 1998 | $1,500 Seven-Card Razz | $93,000 |
| 2003 | $2,000 H.O.R.S.E. | $84,080 |
| 2005 | $5,000 No Limit Shorthanded Texas Hold'em (6 players per table) | $367,800 |
Table taken from Wikipedia
Doyle Brunson's other achievements
Doyle Brunson is an inductee of the Poker Hall of Fame
He is a bestseller author with the 1978 book Super/system which by many is regarded as the bible of Texas Holdem. Super System is the top selling poker book of all times and still sells 14000 copies each month
He has recently published Super System 2 (2004), a follow up on his first book.
Texas Dolly is the author of several other poker books including Poker Wisdom of a Champion and My Fifty Most Memorable Hands
Doyle Brunson is also a spokesperson and endorser of the online poker room DoylesRoom.
Other anecdotes from Brunson's long poker career
Brunson's nickname Texas Dolly comes from a particular incident where the American Sports commentator and bookie Jimmy Snyder by mistake introduced Doyle as Texas Dolly instead of Texas Doyle.
A "Doyle Brunson" is a 10-2 off suit or suited starting hand in Texas Holdem. The names comes from the fact that Texas Dolly won the WSOP with this hand – twice!
Brunson has been around for so long that he has seen three men die at the table. One was shot point-blank in the head (ouch!!), and the other two died of heart attacks, one of them apparently from the shock of losing a huge pot to the Texas Dolly.
In the early 60s, Brunson was diagnosed with "incurable" cancer after a tumor was found on his neck. After a risky operation the cancer disappeared without a trace. Doctors call his recovery a miracle.
Some of Texas Dolly's most famous quotes are "That's poker folks" and "You don't stop playing because you get old, you get old because you stop playing".
Similar Posts:
No comments yet.
Leave a comment