This article belongs to the Poker Pro series
Gustav Hansen, or Gus Hansen as he's known on the World's poker scene, belongs to the poker superstars along with names such as Phil Ivey, Doyle Brunson and Daniel Negreanu to name a few.
Gus Hansen aka "The great Dane" was born just outside Copenhagen on February 13th 1974. Since then he has undoubtedly become the most famous Danish poker player throughout the times.
In this article I will sum up how Gus Hansen built his poker bankroll,  which currently allows him to play in all the major live tournaments as well as the highest online games on Full Tilt poker.
Gus Hansen in his early gambling days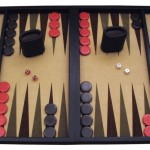 In the 1990s Gus Hansen traveled around with a group of guys from Denmark trying to build a bankroll and making a living playing backgammon. The group was known as "The Danish Backgammon Boys" and they were almost always stuck. Gus had the wildest swings of the lot, one week up a million and the next week down a million. Despite his bankroll swings, Gus always remained positive. As long as the games kept rolling he was convinced everything would work out. Many of you probably don't know that Rasmus Nøhr, currently a well known Danish musician, was one of backgammon players in the group. Rasmus Nøhr quit the backgammon scene in the late 1990s in favor of pursuing a career as a chef. This was around the same time Gus Hansen moved to Las Vegas with a very small bankroll and a plan to increase it on the poker tables, which he believed to have a future. Rasmus Nøhr did not succeed as a chef and actually lived on the streets for some time until his music career took off. Gus Hansen was the first to invest in Rasmus Nøhr's career by founding the recording company "Rec og Kort" and signing Rasmus as his first artist. Unfortunately the album "The happy pizza delivery guy" was never released and Gus Hansen shut down "Rec og Kort" to concentrate on his poker career in the states.
Gus Hansen's achievements
[adrotate group="6″]Gus Hansen's bankroll has increased significantly through his many cashes in major live tournaments. Since 2002 Gus Hansen has made in excess of a whopping 7500000$ in live tournament winnings. Pretty sweet bankroll boost if you ask me :-). Here's a list of Gus Hansen's biggest bankroll boosts:
2003 WPT L.A. Poker Classic, 1st prize 507190$
2003 WPT Five Diamond World Poker Classic, 1st prize 556480$
2004 WPT PokerStars Carribean Adventure, 1st prize 455780$
2007 Aussie Millions, 1st prize 1500000$
2008 WPT World Championship, 2nd prize 1714800$
Another great bankroll boost came when Gus Hansen sold his stake in the online poker room pokerchamps.com. The site and software was sold to Betfair for roughly 15 million $.
Finally, although it did not increase Gus Hansen's bankroll, I'm sure his street credibility climbed when he was accepted into the Poker Walk of Fame together with the godfather of poker Doyle Brunson and legendary James Garner from one of the all time greatest poker movies "Maverick". To this day no other poker player has been accepted into the Poker Walk of Fame.
Gus Hansen's recent year
Gus Hansen's bankroll took quite a beating in 2009 on the highest stake Full Tilt poker tables. According to highstakesdb.com, Gus Hansen lost almost 6 million $ online in 2009. And with no major live tournament wins under his belt either, 2009 was a terrible year for The Great Dane. In December 2009 Gus Hansen decided to take a break from online poker to study his game and it seemed like this has helped. So far in 2010 he has increased his bankroll with more than 2 million $.
Gus Hansen's weaknesses
Gus Hansen is a gambler at heart and as a result his bankroll takes some wild swings from time to time. He likes to bet on almost everything and has lost a lot of money on large sports bets and in the high stakes live cash games in "Bobby's Room", the high stakes venue at the Bellagio Casino in Las Vegas.
Some of the more humorous bets Gus has made include:
A 200000$ tennis game vs. fellow poker pro Patrick Antonius. I don't actually know if the game was ever played. Rumors have it that Patrick Antonius backed out of the bet due to an injury.
A 35000$ boxing match against his good friend Theo Jørgensen. Gus Hansen lost this match. You can easily find it on Youtube along with this gem where Gus Hansen and Mike Matusow bet on a game of tennis.
When playing high stakes poker in late 2009 against Daniel Negreanu, Phil Ivey, Phil Hellmuth, Antonio Esfandiari, Tom 'durrrr' Dwan and  Eli Elazra, Gus Hansen was offered 2 million $ bet if he could stay away from sex in one full year. The guys could not agree on the terms of the bet, so Gus Hansen ended up declining it.
Despite Gus Hansen's large bankroll swings, I'm pretty sure he has a good amount of cash set aside for his retirement if he goes broke again. I wish him the best of luck in 2010.
You could be posting your articles on the Poker Bankroll Blog. Read all about it here.
Similar Posts:
4 Comments to How did Gus Hansen build his poker bankroll?
Leave a comment