High stake poker action during the second week of March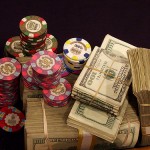 These past few days the overall online poker action may have been going through a lull, but if that was indeed the case, someone forgot to tell NoPasaran and XWINK about it. The two players locked horns at the $300/$600 PLO tables at Full Tilt, with XWINK obviously looking to ride his winning streak. It all blew up in his face this time though, and since his return, he appears to be riding a rollercoaster rather than anything else. NoPasaran was the one who walked away with the goods in this one, finding himself in the right place at the right time over and over again. On one occasion, he managed to lure XWINK into a trap. The hand saw a bunch of raises and calls though the flop, turn and the river, and when all the community cards were laid out in full view (among them no fewer than 4 hearts) NoPasaran made a shrewd check. Sensing weakness, XWINK pushed forward shoving all-in on a less than impressive top pair. NoPasaran jumped on the opportunity and called, showing down a K-high flush.
Later on, XWINK dropped another monster pot, this time out of pure bad luck. The money went all-in before the flop on that one, as he held A,A,5,3 against NoPasaran's Q,Q,10,6. Despite being a rather decent favorite, XWINK lost this hand too after the board was run twice. The first one gave NoPasaran a boat and the second one gave him a flush to allow him to scoop the entire pot. Meanwhile, over at PokerStars, Gavin Cochrane took on compris at the $50/$100 PLO tables. The biggest pot of that session was a $133,484 one, which ended up in Cochrane's possession. Overall, the biggest winner of the last few days was NoPasaran, followed by Gus Hansen, Daniel Cates and Gavin Cochrane. The losers were compris, XWINK, Scott Palmer and Phil Galfond.
Similar Posts:
No comments yet.
Leave a comment