It is always good to have other interest than poker to fall back on if you need a break from the tables to regain focus. For some reason I like plants, in particular trees. So when I saw the Ficus Microcarpa Ginseng Bonsai tree in Ikea April this year, I had to have it even-though Ficus bonsai trees in that size are quite expensive (>100$). I rather cleverly presented it as a present for my girlfriend; being a poker player it always pays off to gain some goodwill on the home front, but more about this in a later post. This is a story of the troubles and victories of my ongoing battle to keep my Ficus Microcarpa Ginseng Bonsai alive.
In order to appreciate the effort it has taken me to keep my Ficus Bonsai alive here is a recap of the manual that was attached to my tree when I purchased it (yes, my tree came with a manual…you may laugh at this point if you wish).
First of all the manual gives a brief definition of the art of making Bonsai trees: "The goal is to recreate nature in miniature and to make the tree look much older than it actually is"
Well in retrospect I have definitely succeeded in the last part since my Ficus Ginseng Microcarpa Bonsai has lost so many leaves since April that it looks more like a dried up twig than a tree (see picture below).
So here is a resume of the most important points of the Ficus Microcarpa Ginseng Bonsai manual:
Do NOT over water the Ficus Bonsai as this will kill it (Gasp!)
Water the Ficus Bonsai from below, NEVER from the top
Protect the plant against cold and draught during transportation
Place it in a bright and slightly shaded place (NOT over a radiator, in draught or outdoors if the temperature falls below 15 degrees Celsius)
The plant is sensitive to changes and will lose some leaves for 2-3 weeks
Point number 5 in the manual is just a plain old lie….your Ficus Bonsai will lose leaves continuously at a rate of 2-5 leaves a day until it dies or you discover the secret of keeping your Ficus Bonsai tree alive (you can hardly wait for me to reveal it right?).
Well up until a week ago I have painstakingly been following the instructions including only fertilizing my Ficus Bonsai tree with half the amount of fertilizer needed for your regular household plants. My breakthrough came when I decided to implement the following steps:
Buy a proper saucer and fill it with LECA (light expanded clay aggregate) pellets to ensure effective drainage and thus prevent a waterlogged pot which causes root rot
Spray the Ficus Bonsai with water twice a day using a regular water vaporizer (FYI this gizmo is also used to water orchids)
After implementing these steps a small miracle has taken place. My tree has only lost two leaves the last week compared to the regular rate of 15-20. In addition new leaves have started to shoot and grow at a rapid pace (see the picture below). So instead of shaking the tree each morning in despair and calling it really bad names, I am now looking forward to waking up to check the new growth.
While reading this post I realized I have forgotten two things. Number one is to mention that the total cost of my Ficus Bonsai is currently in excess of 200$, this explains in part why I have gone to great lenghts to keep it alive. Secondly, one of the reasons I have spent so much money on the damn tree is that it was attacked by some nasty creepy crawlers a few months ago. After some search online I discovered the name of the species:
The long-tailed mealybug also known as Pseudococcus longispinus (see picture below)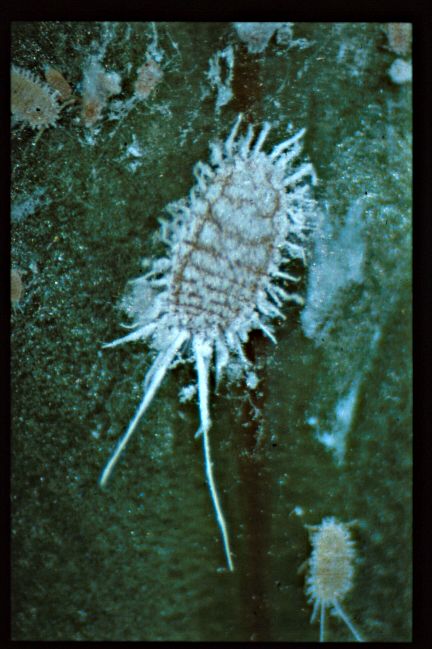 Apparently since this bug secrets a waxy substance over its entire ugly ass body it is resistant to many insecticides. Luckily I found one called Provado (expensive of course) which after being sprayed on the tree diffuses into the sap. When the nasty bug decides to snack on my tree it ingests the poison and dies a horribly painfull death, or so I imagine…MUHUHAHAHAHAHA

Similar Posts:
12 Comments to Ficus Bonsai
Leave a comment