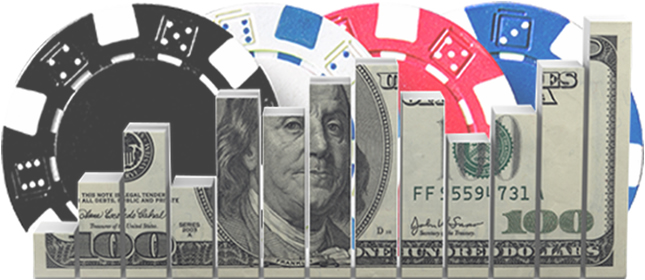 In order to set yourself up for success in poker, it is important to know and understand everything about your bankroll. This is especially true for players new to online poker. It is best to learn more about the ideal starting bankroll, based on your game play, be it cash gaming or tournaments. There are many factors to consider when setting the ideal bankroll, as it will differ between people.
Players have different limits they can set based on income and wagering limitations. Basic strategy dictates that:
"You should only deposit money at an online poker site that you can afford to lose."
Below are a few tips to help you start playing with an ideal bankroll based on cash and tournament games:
Easy to Remember Ideal Cash Gaming Bankroll
Poker players that prefer cash games should focus on having enough money to play a minimum of 20 buy-ins. This is the best starting point. As you get used to playing online, you can increase this amount to 40 to 60 buy-ins.
So, if you are playing at No-Limit Hold'em tables with $0.05/$0.10 and the minimum buy-in is $5, then you would want to have $100 in your online poker account. If you want to buy-in at the max amount, then you would need to increase your bankroll to meet the amount needed. If the max buy-in is $10, then you would need $200.
Know When to Walk Away, Especially Winning Streaks
With your bankroll now set, you need to create a limit for your gambling session. It can be hard to know when to quit, whether you are winning or losing. Set limits for yourself to be able to know when to quit and stick with these limits. Set a goal, such as winning twice as much as what you bought in for. Once you achieve this goal, cash out and walk away from your computer.
Winning streaks end at some point, so having a goal will help you to stop while you are ahead instead of ending up losing your entire bankroll due to continuous game play.
Make an Effective Bankroll for Online Poker Tournaments
For players that prefer to test their skill and luck in tournaments, the bankroll needs to be considered before you consider playing. There is no perfect rule, but rather a range you should when bankrolling a tournament buy-in. If you are multi-tabling, you can easily spend too much money if you do not limit the buy-in amount.
Let's say you have $400 bankroll for online poker tournament play. With the 10% max limit on buy-ins for that range, you would be able to buy-in for a max of $40 per tournament. The total for the buy-in of $20, would need to include any add-ons or rebuys.
Essentially, as you get started, it is best to stick to the Ideal Bankroll Range and avoid any add-ons or rebuys. Consider these options when taking part in a single tournament, such as a guaranteed option, rather than with MTTs.
Following these easy and quick bankroll tips can benefit your cash games and tournament play. Start with these easy to follow instructions and get the most out of your online poker bankroll.
Similar Posts:
No comments yet.
Leave a comment