I was in a particularly foul mood when I wrote this "top 10 reasons why you shouldn't play poker" list so bear with me.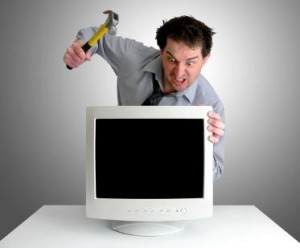 1: Poker is a game of luck
You shouldn't play poker because if you're as unlucky as me, you will never win in the long run. Poker is almost entirely a game of luck which means that you will be better off spending your money on the lottery….or saving it up.


2: Online poker is rigged
You shouldn't play online poker because it's extremely rigged. The only people winning in the long run are those who work for the poker sites.
3: Sitting down is bad for your health
You shouldn't play poker because 1 hour of sitting in front of your computer each day, increases your risk of heart disease by 7%. Your time is much better spent going for a run or spending quality time with your girlfriend
4: Poker isn't cool
You shouldn't play poker because being a pro poker player isn't cool at all. It will never work as a pick up line in bars. If you've seen any kind of televised live poker you'll know I'm right. The average male poker player has not been blessed by good looks. Do you really want to be associated with these people?
5: You are destined to become a poker blogger
You shouldn't play poker because you will probably start blogging about it to compensate for you lack of success at the tables. Poker bloggers are a despicable breed of attention hungry, greedy and essentially boring people who's only goal is to sign you up to rakeback deals.
6: You will become a porn addict
You shouldn't play poker because it will turn you into a porn addict. Let's face it, the only really interesting thing to do while waiting for your turn is to watch porn.
7: No social life
You shouldn't play poker because your social life during weekends will be screwed. You will spend your weekends grinding cash tables and MTTs.
8: Decision making from a BB/hour perspective
You shouldn't play poker because you'll develop an annoying tendency to base decisions on a BB/hour vs time spent comparison. Yes, I could get a sandwich myself or I could have a taxi pick one up to avoid leaving my tables. You might also start relieving yourself in a bottle. Disgusting!
9: Depression
You shouldn't play poker because the human mind tends to remember bad beats and bad decisions and forget the times you were lucky or did something right. As a result you will constantly feel unlucky and question your skills.
10: Lack of respect
You shouldn't play poker because the people close to you will eventually lose all respect for you. Time and time again you will proclaim that you're never playing poker again only to reinstall your poker clients and start up a new game the next day.
As for me, look for the nick pokerbrb, mepusia or pokerbrbblog and you'll find a mentally unstable player who doesn't have the willpower to quit and won't commit the time to advance from his current level of mediocracy.

Similar Posts:
7 Comments to Top 10 reasons why you shouldn't play poker
Leave a comment